UV LED CURING WATER COOLED
UV LED Curing Systems (Light Emitting Diodes)



Capability in UV LED Curing


A new alternative to conventional UV curing lamps,
UV LED Curing improves on
existing UV curing technology.
It is utilized for drying UV sensitive
materials through polymerization,
enabling thinner, heat-sensitive
substrates, while reducing harmful
products such as ozone, thus
improving workplace safety.
Additionally, UV LEDs can be
on and off instantly and
utilize input power efficiently enabling lower operation costs over
the application lifetime.
UV LED Technology,
utilising high intensity light sources from
arrays of Light Emitting Diodes (LEDs), rather than conventional bulb
technologies, has been developed to rapidly cure
UV Adhesives
,
optical bonding of lenses, small glass components, plastic bonding,
wire tracking, metals, inks, and UV curable coatings.
•
Rapid Cure - instant on/off,
•
No warm up required, lights instantaneously
•
No heating of substrates - cold curing close up to cure head
•
No fuming of cured material
•
One peak wavelength of output power (multiple possible)
•
Environmentally friendly
- no UVB, no ozone,
•
Safe operation - no bulb break, low voltage, no mercury
•
Long life time> 10,000 hrs of LED "on" time
•
Minimal drop off in power over life
•
Even intensity of radiant power over curing area
•
Small size and light weight of cure heads
•
Ideal for UV curing of inks in digital inkjet, screen,
flexographic printing processes
•
Useful to converters in the
Converting industry
•
Cooler operating temperature
UV LED Curing
UV LED Spot Curing Systems
provide precision and superior
bonding with faster, more efficient curing, by combining high power
UV output (UV LEDs), with a maximum irradiance, thus offering many
benefits over conventional arc and flash lamps.
Scientific and industrial applications can be found printing, coatings,
adhesives, fibre optics and micro-electronic assembly.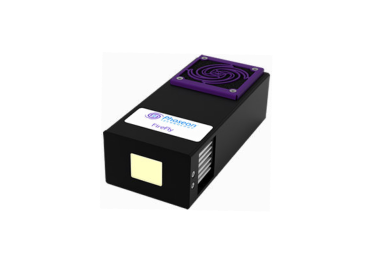 UV LED CURING FOR LARGE AREA
UV LED Curing for Small Area

UV LED products come in two main cooling configurations: